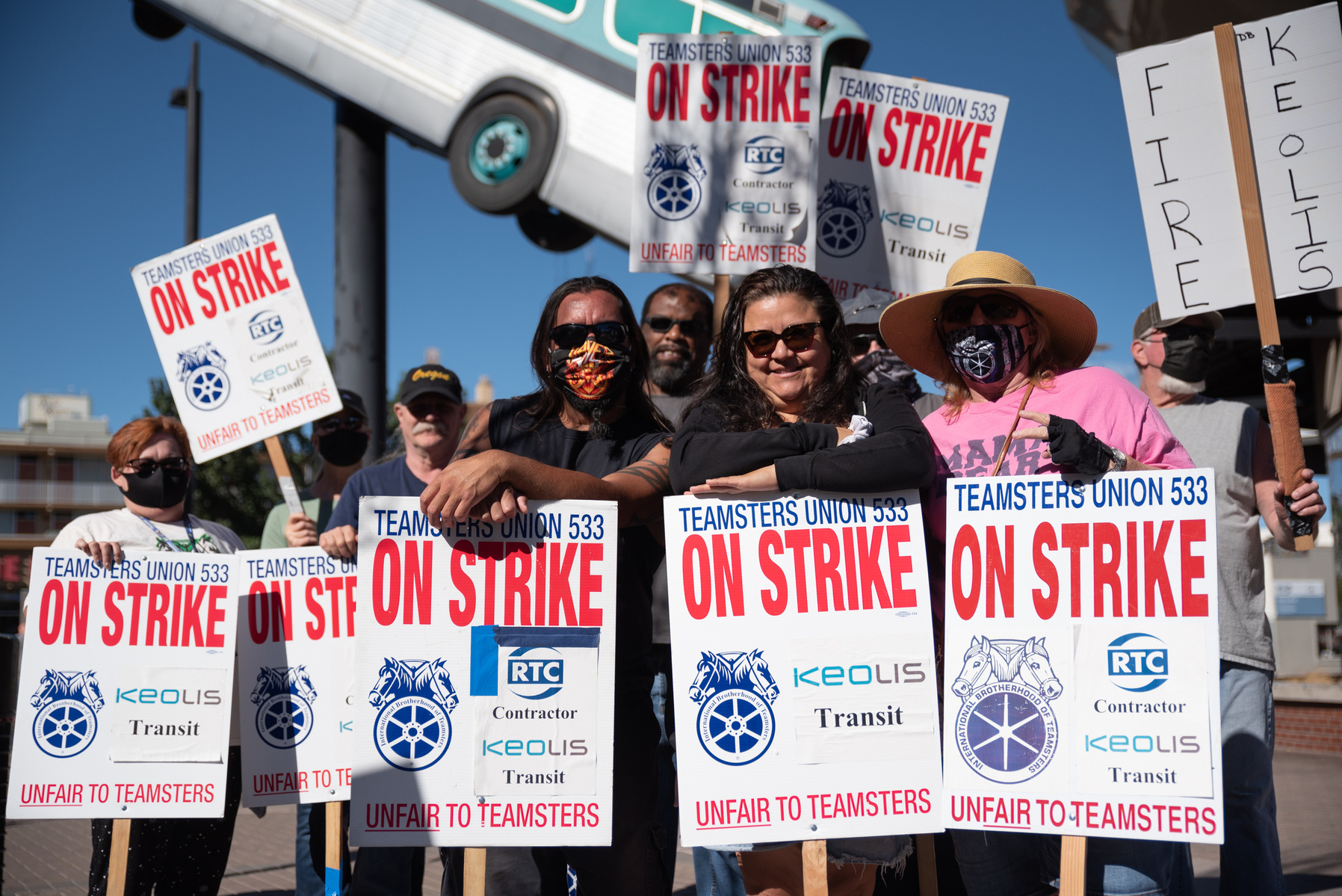 The last strike ended August 12th after 10 days of stoppage and an agreement over health care but resumed this week as overall negotiations stalled for a new contract between the Teamsters Union and private operator Keolis.

For Armand Martinez not driving a bus right now is challenging. He used to love his job but is frustrated with Keolis, the Washoe County Regional Transportation Commission's bus contractor. For the second time this year, Martinez has traded the wheel of the bus for a picket sign.
Martinez first drove a large vehicle when he was in the Army as a younger man. After four years, he found work as a bus driver. The benefits and pay, back then, he says, were a good trade-off for his time.
"Now we're trying to get what we need, it's not what we want, it's what we really need to make this a job that we can actually live and be happy with," Martinez said. A comfortable retirement, a livable wage, and sufficient health insurance are components Martinez believes a job should provide. Without these, Martinez said, it makes it difficult to enjoy the job.
"If we get a contract and we get everything we need in that contract, then we're happy," he said.
Martinez said the pandemic has been a struggle for bus drivers like himself. Despite no traffic and less passengers, when the pandemic first shut down society, he was worried for the health and safety of his coworkers and himself. Martinez estimates that at least 40 drivers have had COVID since the start of the pandemic.
"We do care what we're able to gain from this so that way we can live and be happy at our current position," Martinez said. "Then we can get back to the community and get back to doing what we love to do."
Dozens of protesters are not driving or maintaining busses and holding signs for the second time in two months as a new collective bargaining agreement is still in the works.
"This is the second day [Tuesday] of the unfair labor practice strike against RTC's Washoe contractor Keolis Transit," said Gary Watson, the President of the Teamsters Local 533 of this renewed action. "We are out here because of Keolis' unfair behavior during the bargaining process," he alleged.
Since the last strike, the union has met with Keolis four times with a federal mediator and last week negotiations stalled. According to Watson, Keolis wants to force many drivers to work a split shift, while some drivers would even be forced to split their weekend with a work day in the middle.
"The outlook's not very good and that's based on Keolis' bargaining tactics at the table," Watson said. When Keolis took the contract, there were about 190 drivers. Watson said that today there are about 110 reflecting the labor shortage issue currently facing the nation. Watson believes this attrition in drivers is a bad sign and is urging the county and city to drop the contract with Keolis.
"The best case scenario right now is Keolis needs to get back to the table with us," said Watson.
Brenda Hill says she has been driving a bus for 35 years and is a few years away from retirement. The last two years have been some of the most difficult years in her career.
Brenda Hill began driving a bus in southern California in 1986. She moved to Reno and began driving for RTC in 1990.
"Overall it's the people," said Hill about what she enjoys most about driving a bus. "They depend on a safe ride to their destination." She knows that many passengers get to know and trust their drivers. She misses being behind the wheel of a bus and knows that if her work is done correctly, no one will bother her.
Since Keolis was awarded the contract to operate the city bus system by the City of Reno in 2019, Hill says she has lost faith in the company. She parked her bus and joined the strike. "Maintenance has decreased and loving the job has decreased," she explained. When Hill talked about the pandemic, she talked about challenges. She talked about drivers who were sick with few protections put in place by Keolis.
As we spoke, a city bus pulled out of the station followed by yelling and frustration. "That person crossed over the line and is driving instead of walking with his brothers and sisters," Hill said as the emotion caught up to her. She choked back tears. She does not understand how all of the drivers are not walking with them today.
"We haul and transfer up to 800 and a 1000 people a day each, " Hill said. A lot of people come onto her bus unmasked, she said. As she is a few years away from retiring, this remains a large concern for her.
Hill told me about one of her longtime passengers, an elderly Filipino woman who has been taking her route for over 20 years. "One winter she crawled over a snow berm at my bus stop to bring me a plate of food," she explained. Hill holds onto moments like this as a bus driver. She understands the work she does is pivotal to making the community function.
"These people, for the most part, they need us and they need this system," she said.
Keolis officials have expressed disappointment the strike was renewed, and that negotiations did not continue with buses running.
On its website, RTC wrote on Tuesday: "As the Teamsters Union drivers' strike continues, the RTC is committed to helping transit passengers get where they need to go. The RTC cannot call or end a strike, but anticipates there could be additional future strikes as negotiations continue for the Collective Bargaining Agreement with RTC's transit contractor, Keolis."
This story was originally published here for Our Town Reno.